Add:Chemical Industry Cluster Area of Shan Zhou District(Guanyintang), Sanmenxia, Henan Province, China.
PC:472123
Tel:+86-398-3711988;3711967
    3711309
Fax:+86-398-3711988;3711996
Contact:Mr Zhao ; Mr Chao

Products
Thiodiglycolic anhydride
Synonyms :Thiodiglycolic anhydride
CAS-No :3261-87-8
Formula :C4H4O3S
Molecular Weight : 123.14g/mol
Molecular structure :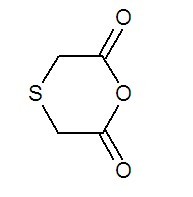 Melting point : 94°C
Boiling point :341.8°C
Flash point : 190.5 °C
Solubility : Soluble in ethanol and ether, soluble in water, insoluble in benzene.
Product Specifications:
white

needle

-shaped

crystal

Loss on drying

0.5%max
Use :mainly used as organic intermediate.
Packaging : 25Kg/drum, or according to the customer request.
Storage :Keep airtight in a dry and cool place.